TA Barstool / Counter Stool | ©
Simone Viola
Some objects maintain their form almost unchanged over time, and design's role is to interpret and refine their archetype. This holds true for everyday items that are so frequently used that their shape becomes self-evident: a fork, a plate, a chair. Their form reflects their function, and their aesthetics must never be compromised. This principle has always guided our design approach—creating flowing designs directly inspired by natural ergonomics.
Ta, a monosyllabic word as simple as a child's first utterance in Chinese, means 'him' or 'her.' It signifies human identity, irrespective of gender, universal and inclusive. A chair, indeed, is a distinctly human object, molded to serve its purpose. It follows the contours of the body, whether for dining or working at a table. It offers a resting position, suspended between wakefulness and slumber, a place to pause or enjoy the company of others. With Ta, we aim to provide an elegantly simple response to the need for both ergonomics and aesthetics.
Ta's design draws inspiration from the style of the 1950s but infuses it with a contemporary touch—honest and democratic design, made possible through an advanced yet relatively straightforward construction technique. It offers a wide array of solutions, with its strength lying in its flexibility. Three solid, flowing, and sinuous shells can be paired with five curved metal tubular bases featuring wooden elements, each characterized by essential design. The color palette reflects contemporary preferences, and the option to add seat pads to the shells allows for numerous customized combinations.
Base: Black and chrome metal.
Seats: Available in 7 colors: White, Black, Cream, Mustard, red, Ocean Blue, Light Gray, Dark Gray.
Seat Pads: Mustard, Red, Ocean Blue, Brown, Gray, Dark Gray, Black.
Features:
Components: 85% Polypropylene / 15% Fiberglass Shell
Warranty: Three year warranty against manufacturer defects
Suitable for: Dining / Cafe / Restaurant / Meeting rooms / Break rooms.
Dimensions:
Counter Stools w/ PP Seat: Inches 19.7d | 18w | 37.4h | 25.6sh || 14 lbs
Counter Stools w/ Upholstered Seat: Inches 21.3d | 18w | 39.8h | 25.6sh || 14.5 lbs
Bartools w/ PP Seat: Inches 20.5d | 18w | 41.3h | 29.5sh || 15.5 lbs
Barstools w/ Upholstered Seat: Inches 21.3d | 18w | 43.7h | 29.5sh || 15.5 lbs
*Upholstered stools use larger seats which used in TA Chairs.
In Stock For Quick Ship
All standard color options listed below are in stock for quick-ship.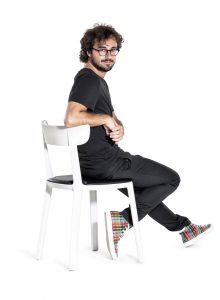 Simone Viola was born in Mendrisio, Switzerland in 1985.
After rigorous training in industrial design in Milan and through his collaboration during various architectural and design studies, he began to gain experience in Switzerland and abroad. In 2011, he founded the Simone Viola Design Studio, focusing on industrial projects for furniture and accessories. His philosophy leans toward research on the materials and technical aspects related to the development of the project, conceptually guided by historical and artistic references. This approach produces the most natural connection to contemporary design, where the object is not the expression of a trend, but a long-lasting fusion of form and the intended use. Soft, natural elegant shapes and elevated attention to details characterizes his work and continuous optimization of the development phase allows the realization of high quality and generously accommodating products.
TOOU Design
TOOU is the realization of a utopia: ergonomic, accessible and versatile designs applied to everyday objects. Conceived for both interior and exterior furnishing, for singles and communities alike, with a cross-fit aesthetic that adjusts to every living style, Toou objects are designed and built for each one of us. A meeting point between the European and Asian cultures, in 2015 TOOU started creating design objects taking account of people above all. TOOU was born out of the blend of European taste for design, in its Italian, Swiss and Northern European interpretations. Italy is the creative heart of TOOU, where designs take shape and where the upholsteries are tailored following accurate research on materials and colour combinations. Our moulds are then developed and mass-produced making the best use of consolidated experience in the manufacturing of plastic products for renowned furniture industry partners. The production of TOOU moulds is entrusted to a company with over 30 years of experience in the sector. The quality of moulds and finishes is the same as applied to the production of components for the automotive industry, which requires very high-quality standards. Our primary goal is to make each object as desirable, affordable and customizable as possible, making use of a wide range of materials, shapes and colours, in order to turn a mass-produced product into a highly personal one. Our products are the material realization of strong, detailed ideas. Toou aims to create long-lasting objects, both in construction and in aesthetics silhouettes and volumes that will become trustworthy companions of your own domestic landscape.