Tasca Lounge Chair and Ottoman |  ©
By Simone Viola
If you close your eyes and envision a lounge chair, chances are, you'd picture it in opulent interiors.
Not anymore.
Tasca is a collection with a refined yet deliberately unpretentious design. It defies the conventions, breaking free from stereotypes and allowing everyone to access beauty.
Conceived with a dual purpose, serving both private and public spaces, the Tasca collection comprises a lounge chair and a footrest. They are characterized by a modern design and an irresistible, timeless elegance.
These understated yet comfortable pieces turn any room into an inviting space, offering the perfect setting to savor a moment of tranquility, where time passes imperceptibly.
The lounge chair and footrest come together as a cohesive collection, showcasing the ingenious use of a single modular cushion at its core, composed of recycled materials.
Featuring a distinctive black metal base and a choice of fabric or eco-leather upholstery, the Tasca collection caters to a range of preferences, making it an ideal choice for all tastes.
Features:
Seat and seat back are commercial grade HR foam moulded into the shape.
The seat shell inside the chair is recycled plastic from natural waste.
Powder-coated metal base.
Dimensions:
Chair: Inches 24w | 26.4d |  31.1h  | 17sh | Weight: 29 lbs.
Ottoman: 24w | 20d |  17h || Weight: 15 lbs.
COM/COL Requirements:
Lounge: 1.5 yards.
Ottoman: 0.6 yards.
Throw Pillow: 1/2 yard.
In Stock For Quick Ship
All standard color options listed below are in stock for quick-ship.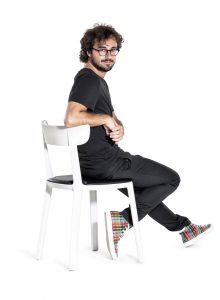 Simone Viola was born in Mendrisio, Switzerland in 1985.
After rigorous training in industrial design in Milan and through his collaboration during various architectural and design studies, he began to gain experience in Switzerland and abroad. In 2011, he founded the Simone Viola Design Studio, focusing on industrial projects for furniture and accessories. His philosophy leans toward research on the materials and technical aspects related to the development of the project, conceptually guided by historical and artistic references. This approach produces the most natural connection to contemporary design, where the object is not the expression of a trend, but a long-lasting fusion of form and the intended use. Soft, natural elegant shapes and elevated attention to details characterizes his work and continuous optimization of the development phase allows the realization of high quality and generously accommodating products.
TOOU Design
TOOU is the realization of a utopia: ergonomic, accessible and versatile designs applied to everyday objects. Conceived for both interior and exterior furnishing, for singles and communities alike, with a cross-fit aesthetic that adjusts to every living style, Toou objects are designed and built for each one of us. A meeting point between the European and Asian cultures, in 2015 TOOU started creating design objects taking account of people above all. TOOU was born out of the blend of European taste for design, in its Italian, Swiss and Northern European interpretations. Italy is the creative heart of TOOU, where designs take shape and where the upholsteries are tailored following accurate research on materials and colour combinations. Our moulds are then developed and mass-produced making the best use of consolidated experience in the manufacturing of plastic products for renowned furniture industry partners. The production of TOOU moulds is entrusted to a company with over 30 years of experience in the sector. The quality of moulds and finishes is the same as applied to the production of components for the automotive industry, which requires very high-quality standards. Our primary goal is to make each object as desirable, affordable and customizable as possible, making use of a wide range of materials, shapes and colours, in order to turn a mass-produced product into a highly personal one. Our products are the material realization of strong, detailed ideas. Toou aims to create long-lasting objects, both in construction and in aesthetics silhouettes and volumes that will become trustworthy companions of your own domestic landscape.