description
specs
resources & downloads
designer
manufacturer
description
Mabel Sofa / Armchair | © By Alp Nuhoglu
With its unique simplicity and timeless design, Mabel Comfort is a series where the same design language adapts to a different user needs.
The Mabel armchair's development came forth to fit the modern and elegant interior design attitude. As well as a single unit in an executive office, Mabel can be used in a first-class lounge at the airport in large arrays of configurations. The wood veneered armrests function both as a coffee table and a separator between two armchairs in a row. 4.5 cm thick, 19 wide wood veneered armrest can be mounted on the right or left side
The seat, resting on the plywood frame ensures the maintenance of the best comfort for long-term use. The slim legs, which are the most significant details of the design's elegant look, can be powder-coated according to customer's choice. Each of the features; metal coating, fabric and colour, are combined to provide harmonious integrity.
specs
---
Dimensions:
Please see data sheet or drawing below for the options.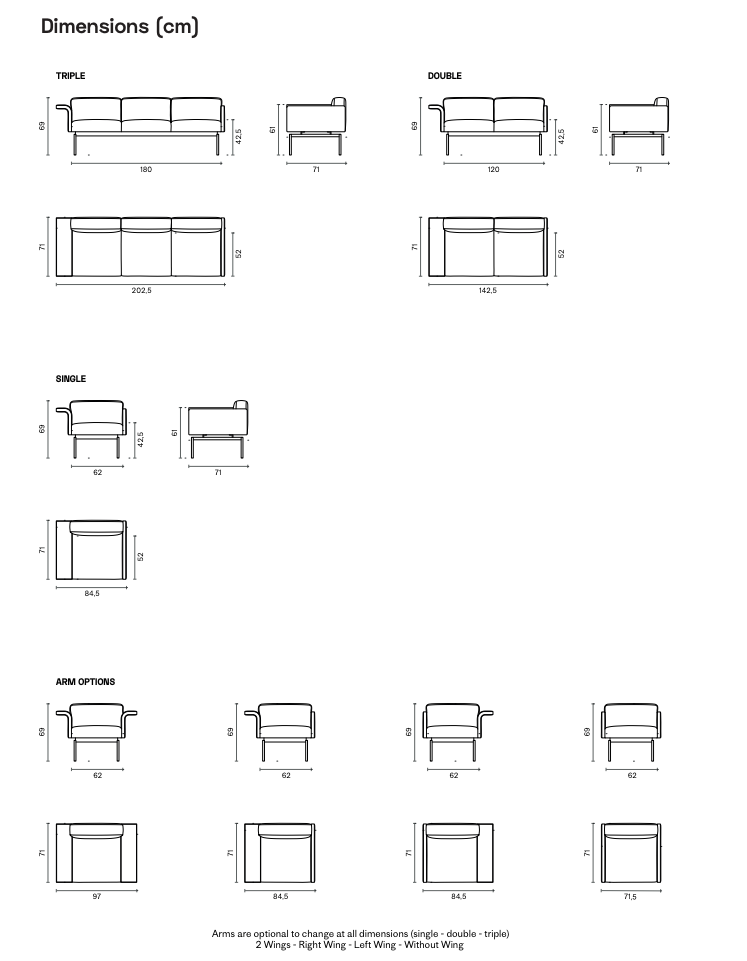 ---
resources & downloads
designer
Alp Nuhoglu
Born in Trabzon Turkey in 1965, Alp Nuhoglu completed his academic education at Mimar Sinan University within the Industrial Products Design department. At the age of 23, he founded the furniture design company, DOR. Currently, Alp works as a designer and the design director with B & T Design. He is a prolific designer having created many of the B & T products we offer. It is his work with B&T which we feature here on Nuans such as the Alek Chair, Round Chair Collection, Loom Tables, Pi Stools, and many more.
manufacturer
B&T Design
Talip Aysan founded his Istanbul based company B&T Designs in 1993. At the heart of their brand were three keywords: "better", "desirable" and " worthy". They would go on to build them, now, a global company in those words and ideas. The result was a line of instant classics that can be appreciated by any design fan.
High-quality commercial grade, fresh, minimally designed, very unique line of collection.
Today, B & T exports stunning modern products to over 50 countries including the United States and Canada. Their design team of top Turkish and European designers such as Alp Nuhoglu, Tanju Ozelgin, Sezgin Aksu, Silvia Suardi creates groundbreaking modern designs such as the Green Lounge Chair, Pop Modular Sofa, Pera Chair Range, Absolut Table, Morph Sofa and so on..
---