description
specs
resources & downloads
manufacturer
description
Most Sofa Collection | © By Alp Nuhoglu
Most sofa is the "most" elegant element in exquisite and simple interior design settings with the fineness in its armrests and foot details.
With its armchair, 2-seater and 3-seater sofa alternatives, Most series stand out as a comfortable sofa group for places where elegant and delicate details are forefront. In a variety of areas ranging from executive offices to social spaces, hotel lobbies to private practice lounges, they can be modified in size and in upholstery accordingly. A 6-mm foam seat on a wooden frame promises durability for many years. While its metal legs tilt outwards and the axis supporting the armrests and the back are add delicacy to the sofa, they point out the stability and strength. The 21 cm wide armrests reinforce the feeling of lightness in design by giving the impression that they are standing in the air on the thin metal axle. While the seat cushions are stationary, backrest cushions are adjustable. The toss pillows, which reinforce the feeling of comfort and belonging, complement the aesthetic integrity of the sofa.
specs
---
Dimensions:
Armchair: Inches 41.3w | 37.8d | 27.1h | 15.4 seat height | 19.5 arm height
Two-Seater: Inches 65.75w | 37.8d | 27.1h | 15.4 seat height | 19.5 arm height
Three-Seater: Inches 90.5w | 37.8d | 27.1h | 15.4 seat height | 19.5 arm height
---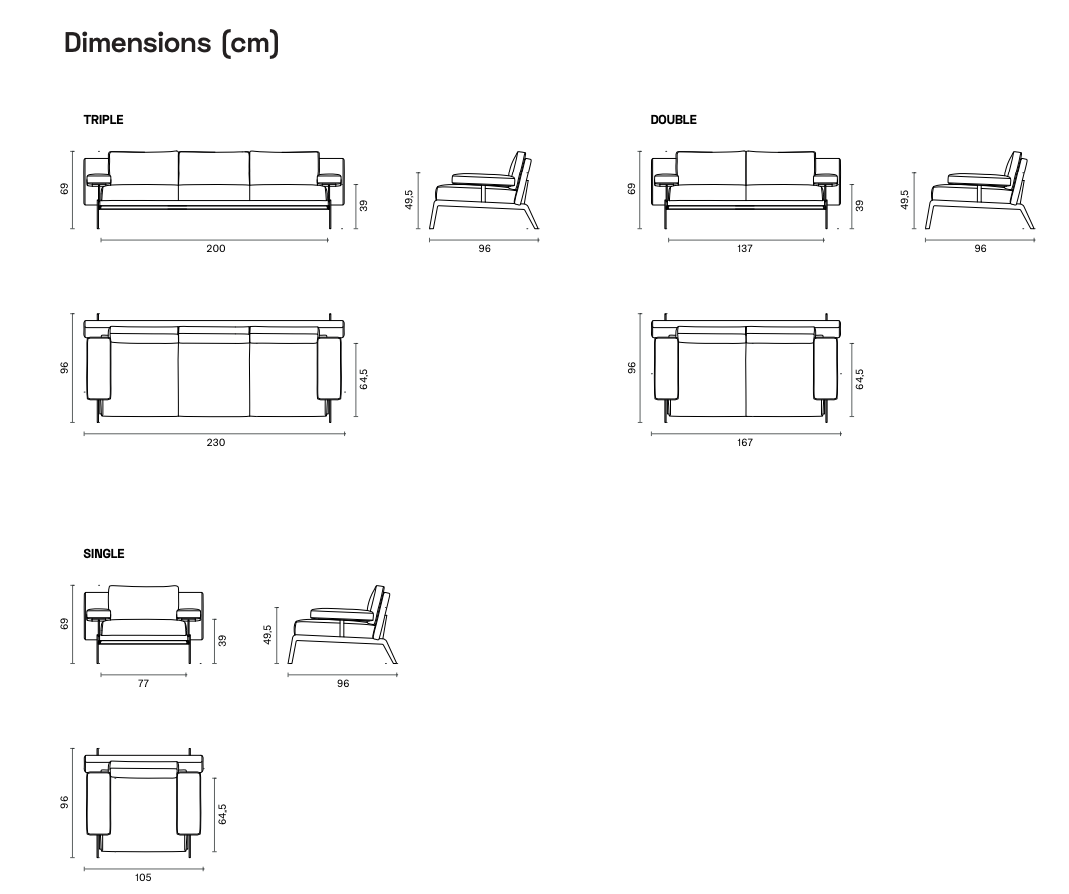 ---
Materials:
Frame Options: 
Metal in desired powder coat paint as per B&T's standard metal colors.
Upholstery Options:
Fabric, Leather, Artical Leather. COM and COL options are also available.
resources & downloads
manufacturer
B&T Design
Talip Aysan founded his Istanbul based company B&T Designs in 1993. At the heart of their brand were three keywords: "better", "desirable" and " worthy". They would go on to build them, now, a global company in those words and ideas. The result was a line of instant classics that can be appreciated by any design fan.
High-quality commercial-grade, fresh, minimally designed, very unique line of collection.
Today, B & T exports stunning modern products to over 50 countries including the United States and Canada. Their design team of top Turkish and European designers such as Alp Nuhoglu, Tanju Ozelgin, Sezgin Aksu, Silvia Suardi creates groundbreaking modern designs such as the Green Lounge Chair, Pop Modular Sofa, Pera Chair Range, Absolut Table, Morph Sofa, and so on..
---