description
variants
specs
resources & downloads
designer
manufacturer
description
Dot Chair | © By Alp Nuhoglu
Dot chair's seat shell is made of commercial-grade very durable plywood. While the front legs lean perpendicular to the floor, the back legs have an angular line inclined outwards. Having an optional armrest in its four-legged alternative, the seat can be a wood shell or an upholstered one, according to the user's choice. Following a fluid line, the back of the shell finalizes with an oval cut. Integrating a cushion on the backrest not only provides comfortable back support for the user, but it also reveals an iconic look in adding this detail. The neat geometrical element of its design unveils a compelling statement and harmonizing different textures of wood surface, metal legs, and upholstered fabric.
variants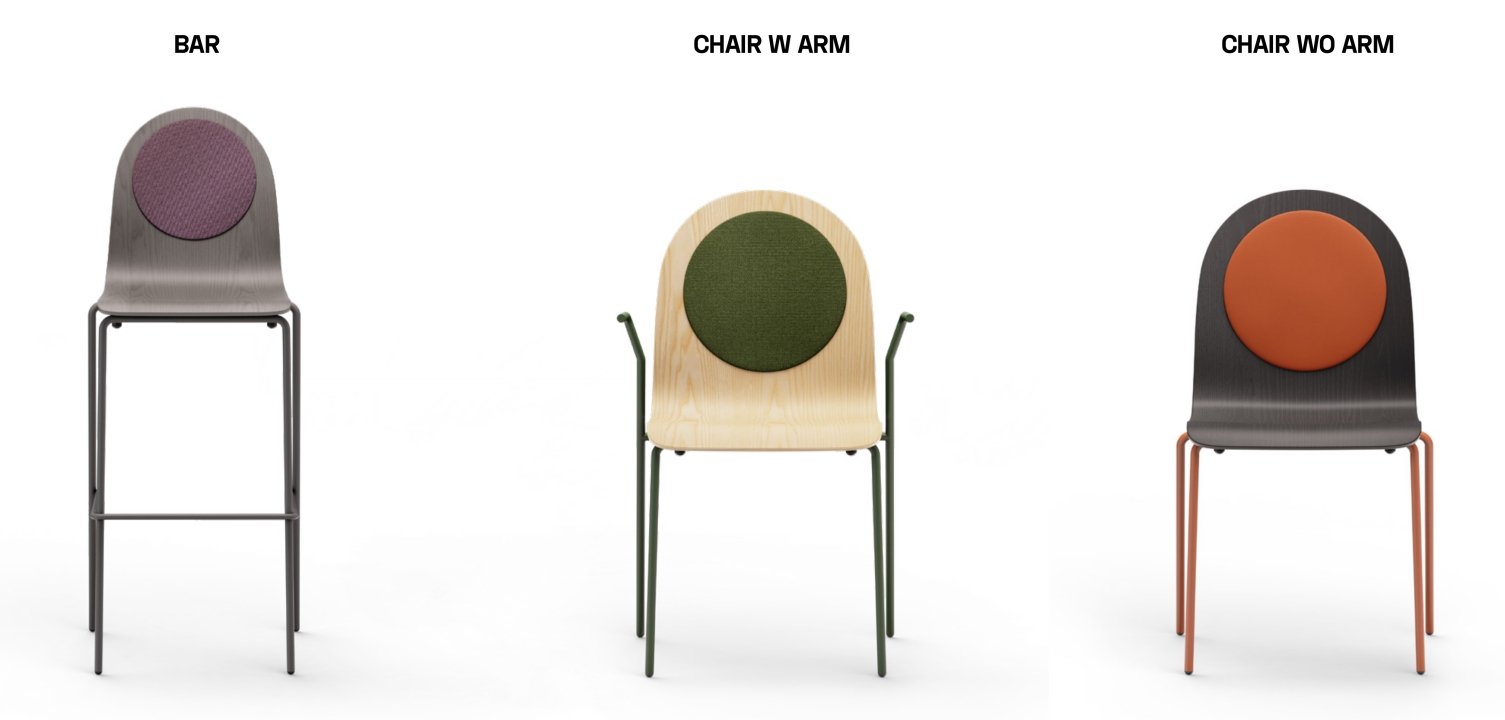 specs
Features:
The plywood seat comes with a circular pad on the seatback by default. 

The seat can be ordered with or without a pad.

Stain options: Natural / Black / Walnut.
Dimensions:
Without Arm: Width : 19.7" | Depth : 20" | Height : 33.5"  | Seat Width : 16.5"  | Seat Height : 16.5"  | Seat Depth : 18.5"

With Arm:  Width : 19.7" | Depth : 20"  | Height : 33.5" |  Seat Width : 16.5" Seat Height : 16.5" |  Seat Depth : 18.5" |  Arm Height : 25.4"
---
resources & downloads
designer

Alp Nuhoglu
Born in Trabzon Turkey in 1965, Alp Nuhoglu completed his academic education at Mimar Sinan University within the Industrial Products Design department. At the age of 23, he founded the furniture design company, DOR. Currently, Alp works as a designer and the design director with B & T Design. He is a prolific designer having created many of the B & T products we offer. It is his work with B&T which we feature here on Nuans such as the Alek Chair, Round Chair Collection, Loom Tables, Pi Stools, and many more.
manufacturer
B&T Design
Talip Aysan founded his Istanbul-based company B&T Designs in 1993. At the heart of their brand were three keywords: "better", "desirable" and " worthy". They would go on to build there, now, a global company in those words and ideas. The result was a line of instant classics that can be appreciated by any design fan.
High-quality commercial-grade, fresh, minimally designed, very unique line of collection.
Today, B & T exports stunning modern products to over 50 countries including the United States and Canada. Their design team of top Turkish and European designers such as Alp Nuhoglu, Tanju Ozelgin, Sezgin Aksu, Silvia Suardi creates groundbreaking modern designs such as the Green Lounge Chair, Pop Modular Sofa, Pera Chair Range, Absolut Table, Morph Sofa and so on..