description
variants
specs
resources & downloads
designer
manufacturer
description
Aristo Chair  | © Mustafa Timur

The functional, practical, and smart details developed in furniture design are some of the key interior solutions of the spaces used for different purposes. Aristo series designed with the purpose of utilizing, the small spaces and providing optimum user experience.
The plywood shell of the chair maintains a functional and harmonious design language. With its simplicity and functionality, Aristo can be configured for different purposes according to space's needs. Especially in large-scale corporations' educational areas like conference halls and seminar rooms, it creates an opportunity for flexible use. It can be made to order with armrests; wooden details located on the edges of the armrest come together with metal and exposes a gracious connection.
Aristo series, consisting of two different types, sled based and four-legged, are stackable. By being stacked, they support the efficient and practical use of different spaces in events like exhibitions or workshops.
By the interlocking of sled bases, the Aristo series enable a setting for a conference session and also gives an opportunity to create an alternative layout with its complementing coffee tables present in the same product family. Seating groups can be arranged with coffee tables placed in between the chairs in hospitals and hotels. Single or double setups can be made in official ceremonies and VIP lounges.
Aristo series' four-legged chair can be preferred as a single working unit with the writing tablet for training, seminars, workshops, and so on.
variants
specs
Materials
Base: Sled Base, 4 Leg. Either leg type can be powder coated or chrome.
Seat: Walnut, Natural American Ash, Black Stained Ash.
For fabric selection please check here: Material options.
Dimensions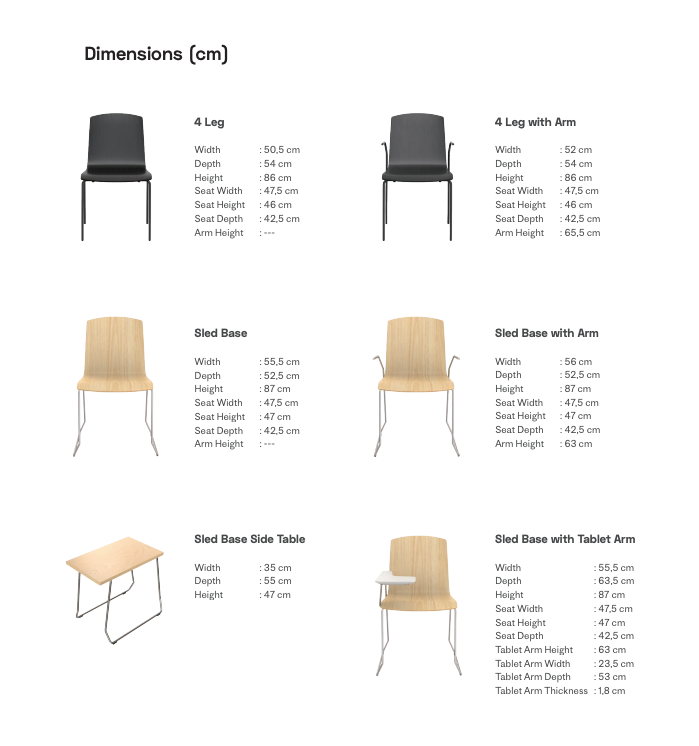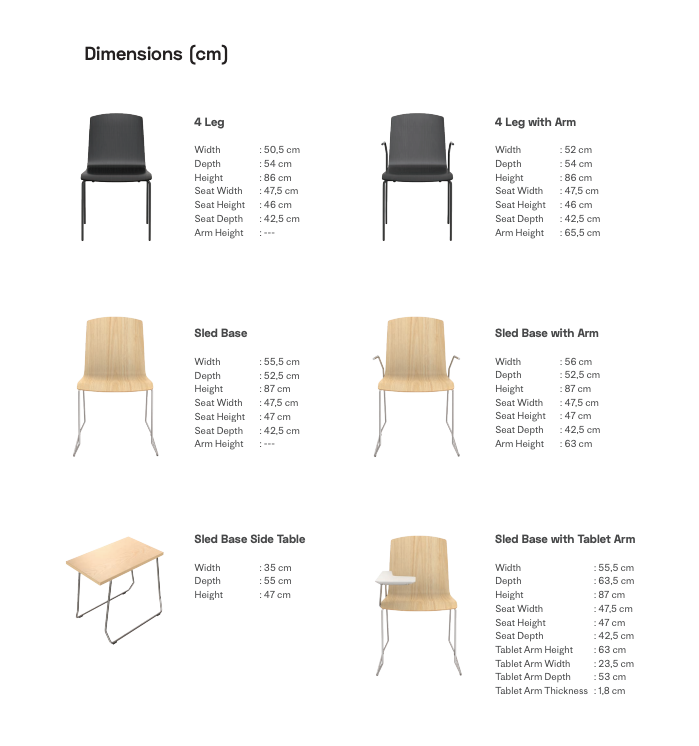 resources & downloads
designer
Mustafa Timur
Young designer Mustafa Timur is an industrial designer who likes to create stories. He encourages us to always be curious about the roots and essence of things and surroundings. This approach helps enables him to reconfigure the past and future. His coincidental and imaginary approaches result in creating unique and cozy designs. His enthusiasm for blending different cultures and lifestyles helps him to broaden the horizon. Thanks to this broad perspective, Mustafa Timur creates perfect furnishing solutions for today's work or living environments. After strengthening design talents within the academic practices of Anadolu University and Domus Academy, he developed products like furniture, lighting, carpet, games, and toys.
B&T, Koleksiyon, Harvard Business Mother, and Child Education Foundation are among the brands he advised and worked for. Since 2015 he teaches at the LaSalle Academy in Interior Architecture. He volunteers at many different non-profit organizations such as "onemsiyoruz.org"; Timur has received design awards in many areas such as furniture, packaging, toys, bathrooms accessories, etc.
manufacturer

B&T Design
Since 1995
B&T Design is one of the leading furniture manufacturer in Turkey. With its masterful tailoring skills in upholstered products and precise attention to details in wood and metal manufacturing B&T Design provides world class products and services. When designing and manufacturing; B&T Design keep users in mind to be as functional and useful as possible.
B&T Design, founded in 1985 by the entrepreneur Talip Aysan, combining his expertise in metalwork with designers who offers fresh design ideas. Started manufacturing design-oriented collection as per European quality standards. Today, B&T Design exports its products and services to more than 45 countries from Australia to Belgium and the United Arab Emirates to the United States.
B&T Design, which continues to exhibit its new approaches in sector fairs in Germany, Italy, regularly meets with users at Salone Del Mobile in Milan and Orgatec fairs in Cologne. The collections, which are always designed by successful designers for more than 20 years, become a common point of different cultures all over the world. B&T Design products are found in hospitals, offices, hotels, educational buildings, banks, airports, etc. around the world. B&T Design collections preferred by developers and designers because of its unique solutions and modification options according to the space where products will be installed.
Today, B&T Design continues to develop product solutions for leading international brands such as Microsoft, Mercedes-Benz, Google and BMW, as well as major domestic institutions such as Acıbadem, Memorial and Medical Park Hospitals.
B&T Design, simplify interior designers, architects and dealers' work with quality product and services it offers. After Istanbul and the USA, the last showroom opened to trade in Ankara in 2015. B&T Design, which has achieved significant success both at home and abroad, continued to increase its production capacity by moving to its new factory in 2016.