Anyway | Pablo Sinan Akgül Garcimartín, Blanca Galán Merino
Anyway is a family of versatile varnished wood objects, able to adapt to different purposes and environments: stool, bedside table, coffee table, seat, support, turning also into a bookcase by stacking them one on top of the other.
The project was born on the occasion of the competition Italian Design Day 2020 "The design: a journey from Italy to Spain", aimed at young creatives and Spanish students under 35 years old, in collaboration with the Italian Embassy in Madrid, the Consulate General in Barcelona and the magazine Interni.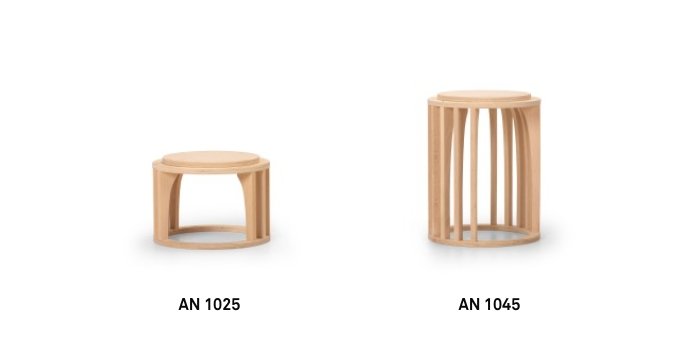 Features
Extremely sturdy beech plywood and top.
Solid wood legs.
Suitable for both residential and commercial use.
Dimensions
AN 1025 low stool: 13.8"dia | 9.85"h | 6 lbs.
AN 1045 medium stool:  13.8"Dia | 17.7"h | 7.5 lbs.
For more details, please see the datasheet.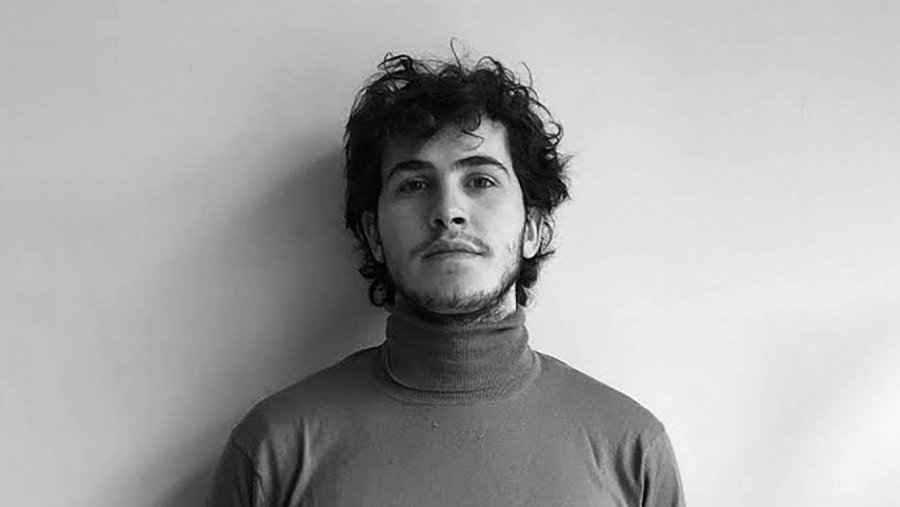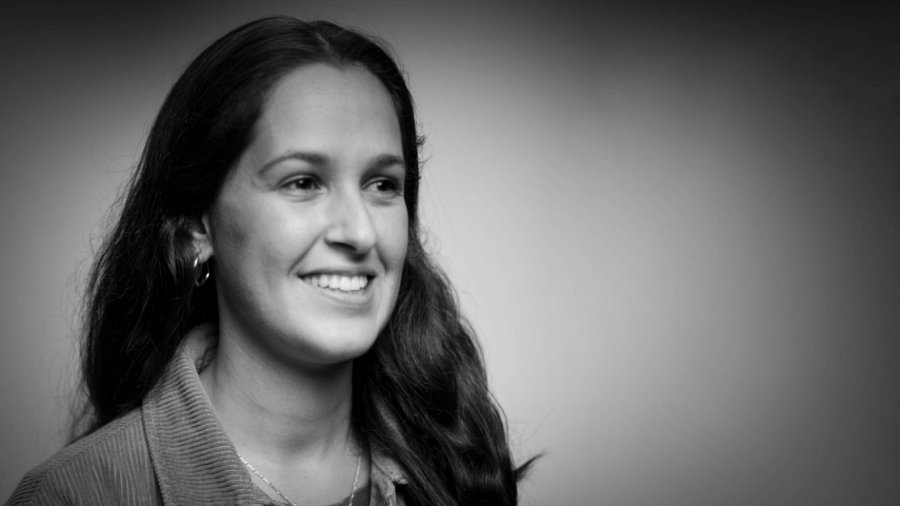 Pablo Sinan Akgül Garcimartín & Blanca Galán Merino
Pablo Sinan Akgül Garcimartín
Pablo Sinan Akgül Garcimartín is a Spanish/ Turkish product designer based in Madrid.
Pablo´s design journey began at an early age thanks to his father who is a furniture designer and his grandfather who was a carpenter. So it could be said that he grew up in workshops surrounded by designers and craftsmen.
For Pablo, a design should be humble, simple, and most of all human. A design should not intimidate but invite. His mission is to solve daily problems with a design that is intelligent, practical, and at the same time curious.
His design AnyWay was awarded 1st place at the ITmakES design competition in 2019 and will be exposed in Milan Design Week in 2021.
---
Blanca Galán Merino
Blanca Galán Merino is a Spanish product designer based in Madrid.
She understands design as a tool capable of improving people's lives, her vision is that in the future, this tool goes hand in hand with the user, thus creating projects that not only solve problems but also achieve to convey emotions.
She likes to see opportunities in any kind of situation and she is not afraid of responsibility or challenges. She is a resolute person, regarding the problems that arise during the development of a project.
Loyal to her values, ideals, and principles.
True Manifest
Perhaps this is why a name has never been more appropriate, because it is the project of a family that means business and that, when it deals with issues relating to growth and trust in the new generations, probably does not even talk about it, but simply takes direct action. TRUE is a joint project: the project of a family that has become a company. Founded in 1983 under the name TMA, an interesting geographical acronym of three towns – Treviso, Monselice, and Asiago – particularly active in the furniture industry and, specifically, in the office furniture industry. The founders' Donatella Brunello and Giuseppe Maniero business and technical experience resulted in a company with international prospects, in which seating for offices as well as theaters and cinemas were its only business. The increasingly high capacities achieved in the upholstered furniture sector and the downturn in the auditorium seating sector led the family to evaluate a new path: the creation of a company that carries forward the expertise acquired over the years, combined with the agility and freshness of a family business which since 2009 also includes the second generation of entrepreneurs, that is young Alessandro, Lorenzo, and Francesco Maniero. By virtue of necessity in that same year TRUE was founded, an Italian company that creates high-quality furnishings and accessories, able to respond to the changing needs of the market in an innovative and lasting manner, providing a service that can always effectively satisfy customer needs with industrial products which can be customized upon request. The spirit of the brand is contained in a single concise and precise adjective that reflects the values on which its collection is based, characterized by authenticity, practicality, and concreteness.
These same adjectives fit perfectly with the coherent and visionary, but also pragmatic, work of the architect Aldo Parisotto, who has been in charge of creative direction since 2014. Parisotto, an internationally renowned architect, co-founder, and owner of Parisotto+Formenton Architetti, immediately joined the TRUE family, with whom he established a direct, spontaneous, sincere, and substantial relationship. TRUE made a strategic choice when it assigned him a role halfway between designer and architect, able to collaborate without limiting himself to imprinting his own distinctive style, but working while taking into consideration the real needs of designers and the public worldwide. At the beginning of the new millennium, workplaces ceased to be places of mere production and became increasingly welcoming and comfortable spaces, where one could stay longer in contexts characterized by the need for emotion even more so than the function of the space itself. Enhancing this aspect by freeing space from the rigid dogmas of the architecture of the past was one of the first challenges that the Art Director faced with regard to the TRUE collections. Each of the company's creations originates from the passion for the work and the profound sense of responsibility of those who work there, in a family atmosphere in which production increases and is developed. Aware of their role and the essential role of the designers, TRUE's production is the result of a thorough analysis of the demands of both the market and international production, organized in an open and flexible manner, adopting cutting-edge methods and technologies, focusing on knowledge and training. And, above all, cooperation. In fact, cooperation was a fundamental criterion in the selection of the designers to whom the conception and development of the new TRUE collections are to be entrusted. The designers whose creative talents contribute to further enhancing the TRUE catalog are, therefore, chosen according to the affinity between their ethical and aesthetic approach and that of the company to transform wood, fabric, metals, and leather into furnishing accessories both beautiful and accessible that are exclusively manufactured in Italy. A decade after its inception, TRUE's objective is to grow continuously in the name of research and innovation and to expand and increasingly stand out on the international level due to the quality of its production and service, competitively consolidating its brand among the most important market segments. Because TRUE focuses on a passion for beautiful and well-performed work for the satisfaction of its customers, offering experience, expertise, capacity, and flexibility, to achieve a dream together, to help make spaces more pleasant and comfortable, with products that are durable both for their taste and for the quality of their materials and workmanship, and that are, therefore, truly sustainable.