Sonora Stacking Chair
Lightweight and flexible in design, but heavyweight in endurance.
This modest-looking chair features a waterfall seat edge and a slightly curved backrest for support and comfort. Both the seat and the backrest are nicely formed and finely proportioned. Its minimalist style offers flexibility and versatility. Utilize Sonora chairs at home in your minimalist dining room setting or in a design-oriented conference room. It will also be a perfect option for a sleek restaurant or cafe. Sorona chair is stackable and suitable for residential or commercial use.
Features
Stackable.
Bent plywood seat comes in natural oak, black.
Shipped fully assembled.
Large quantities in stock.
Suitable for both residential and commercial use.
Dimensions
Chair: Inches W 15 D 18.5 H 32.2 SH 18 - 14lbs.
Package: Inches 20 x 23 x 33.5h - 4 in a box - 58lbs.
Stock Options
Black frame - Black ashwood seat and backrest.
Black frame - Natural ashwood seat and backrest.
Minimum Order Requirement
Sonora chair is sold from stock only. No minimum quantity required for items in stock. 

Kollektiff is a visionary furniture brand based in New Jersey, USA.
Our brand is a result of the collaboration between one of North America's well-established modern furniture distributors Nuans Design and a reputable furniture manufacturer in Turkey with decades of experience. An alliance of passionate design enthusiasm and flawless craftsmanship manufactures for hospitality, contract, and residential applications all at contract grade quality.
A New Design Approach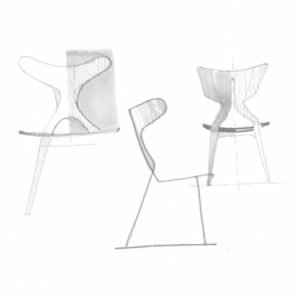 Our collection is designed in two ways: We have a team of up and coming in-house designers and artisans that we call Kollektiff Crew. Most of our designs are the creation of this talented and dedicated team. We also work with young promising designers from around the world, bringing their dreams into reality. Either by the Crew or by the individual designers, we assure you that the outcome is always authentic and fresh.
Our Value Proposition
We design, develop, manufacture, and deliver.
Our team manages the process from conceptual design through developing, manufacturing, and quality control. Managing all these steps in-house gives us the upper hand to offer great quality furniture at a very affordable price point.
Either for a large contact project or a small residential purchase, our promise is to provide you with impeccable quality at an incredible price point.
We believe that good design should be accessible to everyone. We take advantage of new technologies and employ innovative techniques to make sure we deliver flawless quality at much better price points than the industry standards.
Custom Capabilities
Most of the Kollektiff items are open for customization to individual tastes. We have a fabulous color palette of RAL colors in our standard offer. No minimum quantity required, no extra charge for those great color options listed here: Kollektiff Metal and Wood Color Palette 2021.
In addition to these colors, we go beyond that and offer an entire RAL catalog of hundreds of colors with a slight upcharge.
You can select your own upholstery options. Almost all fabrics, vinyl, and leather from major manufacturers are approved to be used by our factory.
Stock and Quick Shipping
The majority of the collection is available in stock with several color and upholstery options. Real-time updates of stock levels are available to the distributors, dealers, and retailers. Speedy delivery is used for all stock items.
We Love The Globe
We are sincerely aware of our responsibilities to be environmentally friendly as designers and manufacturers. Our factory is dedicated to making each product with sustainably sourced renewable materials and recycled content. We assess every material for its recycled content or recyclability. Our steel parts are fully recyclable and our powder coating system is environmentally sensitive. We prioritize fabrics made from renewable materials like wool, cotton, or viscose linen, or 100% recycled polyester.
At Kollektiff, we recycle leftover residuals after metal manufacturing and leftover upholstery materials.