Diamond Dimple | © By Stolt Design, 2011
The Dimple chair shell's structural design was inspired by an eclectic mix of old, vintage race car seats and golf ball patterns. The union of the two concepts has created a comfortable and highly ergonomic body, with a modern, vibrant aesthetic. The Dimple shell's solid, sturdy structure, which will hold it upright even on a windy day, the surfaces, designed for easy cleaning and drying, and its ability to remain cool even in warm weather, make this shell ideal for outdoor use. The use of fewer materials makes it light, therefore easy to move, and transport, as well as reducing production costs. This innovative shell will look smart in any environment, offering a new perspective from every angle. The Diamond base is inspired by the facets of a cut diamond, creating a similar play of light. A simply sophisticated piece of furniture, perfect for modern and minimalist settings.The purity of the concept, and the high-quality design, combined with complex lines that create a light and luminous metal structure, creating a modern and sophisticated silhouette. The Diamond Dimple Holes chair is a real top-seed: comfortable and ergonomic, its design is evocative, out of the ordinary, and certainly doesn't go unnoticed, perfect for someone wanting a touch of contemporaneity and sophisticated originality.
© Diamond base design by Stolt Design.
© Dimple shell design by Sander Mulder.
Features
CATAS certified for contract use.
80% polypropylene, 20% fiber-glass.
White, Cream, Light Grey, Black, Red, Mustard
Chrome plated, Gold plated, Black metal base.
Seat cushions available at an added cost.
Suitable for: Dining / Cafe / Restaurant / Meeting rooms / Conference
Dimensions:
20.5" W x 23.2" D x 33.5" H | Arm height: 24" | Seat height: 18.3"
Bases: Chrome plated, Gold plated, Black powder-coated metal base. 
Seat: White, Cream, Light Grey, Black, Red, Mustard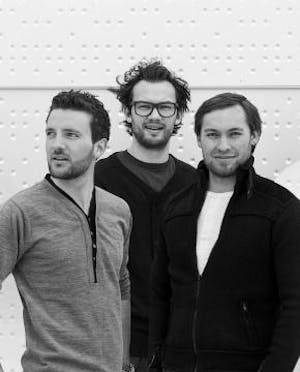 Stolt Design
Stolt Design is a young and open-minded design trio based in Oslo, Norway. Stolt Design is created by three fellow students graduated from the department of Product Design, at Akershus University College. The designers share both knowledge and passion for their work.They approach their designs from a problem solving point of view, and work to design long-lasting products to market with an eye for quality, functionality and high user value. Stolt Design uses the company as a platform to promote both individual and collective work, and uses each other for quality assurances of the designs.