description
specs
stock options
designer
manufacturer
description
Slice Base | V9 Seat

Smooth as glass, the Slice base is the perfect example of a design that combines functionality and a graceful silhouette.With its minimalistic design Slice allows its materials to do the talking: the inserts, which have all the warmth of wood, slide on the metal frame of the legs and are connected via the magnets placed in the feet, which can be removed and repainted.Slice is a light and elegant base, perfect in its simplicity.ior.
The Double V9 chair is made of plastic material that is colored through and through and UV-resistant. As a result, the chair stays nice for a long time and always retains its color even with prolonged exposure to sunlight. The metal base is also neatly finished with a matte powder coating. This gives the chair a modern touch.
© Slice base design by Sander Mulder.
© V9 shell design by Matteo Calonaci.
specs
Features
CATAS certified for contract use.

80% polypropylene, 20% fiber-glass.

White and black shell color options.

Innovative chair legs design to blend in with surroundings.

Seat cushions available at added cost.

Suitable for: Dining / Cafe / Restaurant / Meeting rooms / Conference
---
Dimensions
20.5" W x 23.2" D x 33.5" H | Seat height: 18.3"
---
Quick- Ship Availability
Shells: White, black.
Metal Bases:
White steel base in Walnut, black and natural stained ash wood sleeves.
---
stock options
Below listed combinations are in stock for quick ship:
Seats: White, black.
Metal Bases: White steel base in Walnut, black and natural stained ash wood sleeves.
Please contact our sales team for special order lead times.
designer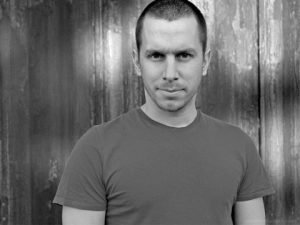 Sander Mulder
Born in 1978, he started studying design in 1996, sparked by the creativity and ingenuity he displayed as a child. It soon hit home; this would become his lifelong passion. His successful graduation from the Design Academy Eindhoven in 2002, resulted in the start-up of his own design studio.Always seeking new challenges and inspirations he has since then steadily been working on a diverse portfolio containing lighting, furniture and interior designs for international clients and his own collection. His work is proof of the firm belief that good concepts should only exist in symbiosis with a good execution.It investigates new ways of approaching the construction, functionality, and aesthetics of everyday objects and spaces. The resulting work is a combination of strong lines and subtle details with innovative techniques and bold statements, often questioning archetypes and their interpretations of mankind. www.sandermulder.com
manufacturer
Kubikoff
Kubikoff Srl was launched in 2004 by the Lemson Brothers. Kubikoff Srl is a company that is making its way in the field of design, thanks to modern and innovative ideas, and a high-quality production.
Kubikoff Lab designs and creates products that are constructed with a careful attention to details, using the newest techniques, to guarantee the highest comfort and functionality.
At the heart of Kubikoff Lab are the master upholsterers, who pad and line the entire collection. Kubikoff upholstery is entirely handmade, with extreme attention to trims and finishing details, and to the selection of the most innovative materials and fabrics, to guarantee comfortable, functional and elegant products.
Combined with the great professionalism, and technical knowledge of the Kubikoff Lab master upholsterers, are the innovative ideas of European designers, who apply their efforts to design modern, captivating furnishing elements.
The designers collaborating with Kubikoff map out the guidelines of the collection, starting from the base of the chairs and armchairs, which join flawlessly with the elements designed by Kubikoff Lab, creating products with a unique personality, suitable for a domestic use, as well as the contract market. The contribution given by emerging Italian artists, enriches the Kubikoff products, adding a touch of flair and a unique value.