Not Wood Bar / Counter Stool - Wood Base | By E-ggs Design
From the success of the NOT family of upholstered armchairs comes the new compact and light version characterized by a curved wooden shell with variable thickness.
Available in many finishes: from oak to walnut, from ash to wenge, and in different versions: with tubular metal legs, sled base in steel rod, or with solid wood legs. It is stackable, can be upholstered in the front, and can be placed in hospitality, catering, and community environments.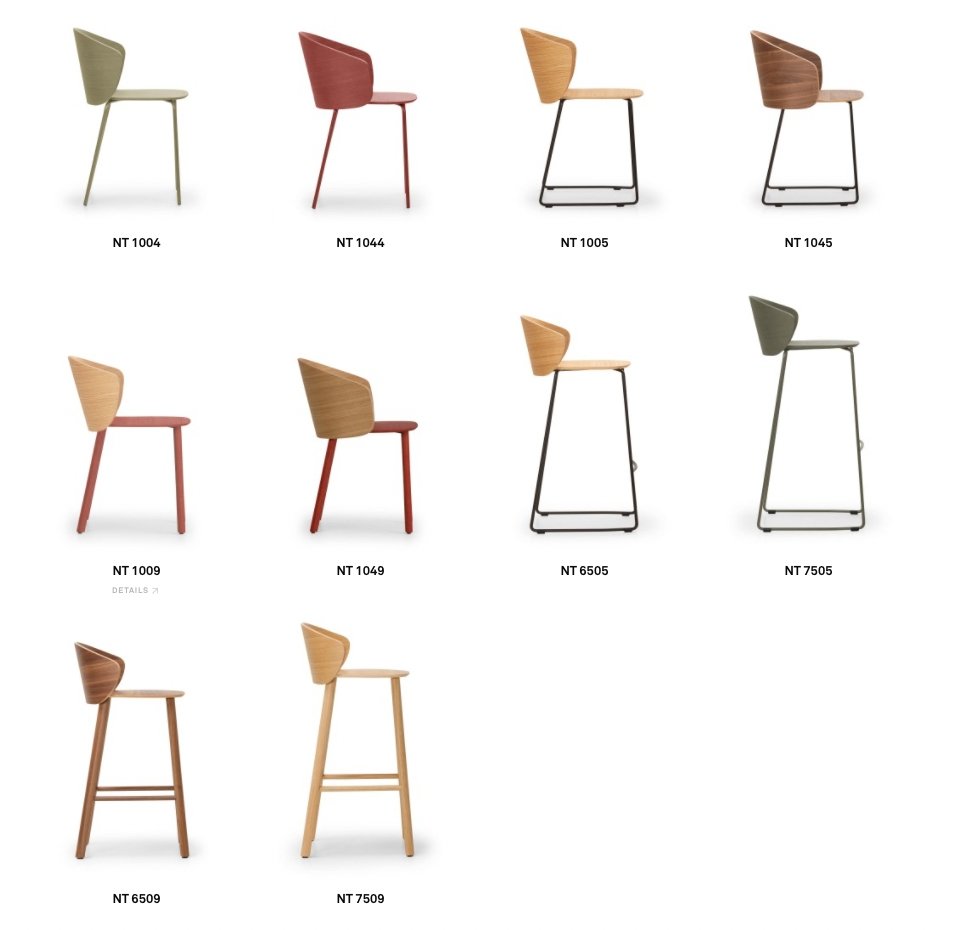 Wood Finish Options

Dimensions
Counter Stool NT 6509 : 18.1"d | 20"w | 33.8"h | 26.3"sh
Barstool NT 7509 : 18.1"d | 20"w | 37.4"h | 30"sh
Formed by Gaia Giotti, Giona Scarselli, Cristina Razzanelli, Erica De Candido, and Marco Popolo, E-GGS is concerned with the design of a transversal approach, ranging from product design, interior and architecture. The attention and curiosity are captured by the discovery of the unusual in everyday life, in the search for new forms of expression and materials. It is the exploration of the needs of every day that arise for ideas.
SELECTED AWARDS
LEAF ARMCHAIR | Ton a.s.
German Design Award / winner 2020
BOTERA | Miniforms s.r.l.
Archiproducts Design Award / winner 2019
VELA | Calligaris s.p.a
Smart LABEL 2019 / winner 2019
LEAF | Ton a.s.
Red Dot Award / winner of furniture design 2017
Wallpaper Design Award / winner 2017
German Design Award / winner 2017
IF Product Design Award / winner 2017
Interior Innovation Award / selection 2017
Archiproduct Design Award / best of category 2016
True Manifest
Perhaps this is why a name has never been more appropriate, because it is the project of a family that means business and that, when it deals with issues relating to growth and trust in the new generations, probably does not even talk about it, but simply takes direct action. TRUE is a joint project: the project of a family that has become a company. Founded in 1983 under the name TMA, an interesting geographical acronym of three towns – Treviso, Monselice, and Asiago – particularly active in the furniture industry and, specifically, in the office furniture industry. The founders' Donatella Brunello and Giuseppe Maniero business and technical experience resulted in a company with international prospects, in which seating for offices as well as theaters and cinemas were its only business. The increasingly high capacities achieved in the upholstered furniture sector and the downturn in the auditorium seating sector led the family to evaluate a new path: the creation of a company that carries forward the expertise acquired over the years, combined with the agility and freshness of a family business which since 2009 also includes the second generation of entrepreneurs, that is young Alessandro, Lorenzo, and Francesco Maniero. By virtue of necessity in that same year TRUE was founded, an Italian company that creates high-quality furnishings and accessories, able to respond to the changing needs of the market in an innovative and lasting manner, providing a service that can always effectively satisfy customer needs with industrial products which can be customized upon request. The spirit of the brand is contained in a single concise and precise adjective that reflects the values on which its collection is based, characterized by authenticity, practicality, and concreteness.
These same adjectives fit perfectly with the coherent and visionary, but also pragmatic, work of the architect Aldo Parisotto, who has been in charge of creative direction since 2014. Parisotto, an internationally renowned architect, co-founder, and owner of Parisotto+Formenton Architetti, immediately joined the TRUE family, with whom he established a direct, spontaneous, sincere, and substantial relationship. TRUE made a strategic choice when it assigned him a role halfway between designer and architect, able to collaborate without limiting himself to imprinting his own distinctive style, but working while taking into consideration the real needs of designers and the public worldwide. At the beginning of the new millennium, workplaces ceased to be places of mere production and became increasingly welcoming and comfortable spaces, where one could stay longer in contexts characterized by the need for emotion even more so than the function of the space itself. Enhancing this aspect by freeing space from the rigid dogmas of the architecture of the past was one of the first challenges that the Art Director faced with regard to the TRUE collections. Each of the company's creations originates from the passion for the work and the profound sense of responsibility of those who work there, in a family atmosphere in which production increases and is developed. Aware of their role and the essential role of the designers, TRUE's production is the result of a thorough analysis of the demands of both the market and international production, organized in an open and flexible manner, adopting cutting-edge methods and technologies, focusing on knowledge and training. And, above all, cooperation. In fact, cooperation was a fundamental criterion in the selection of the designers to whom the conception and development of the new TRUE collections are to be entrusted. The designers whose creative talents contribute to further enhancing the TRUE catalog are, therefore, chosen according to the affinity between their ethical and aesthetic approach and that of the company to transform wood, fabric, metals, and leather into furnishing accessories both beautiful and accessible that are exclusively manufactured in Italy. A decade after its inception, TRUE's objective is to grow continuously in the name of research and innovation and to expand and increasingly stand out on the international level due to the quality of its production and service, competitively consolidating its brand among the most important market segments. Because TRUE focuses on a passion for beautiful and well-performed work for the satisfaction of its customers, offering experience, expertise, capacity, and flexibility, to achieve a dream together, to help make spaces more pleasant and comfortable, with products that are durable both for their taste and for the quality of their materials and workmanship, and that are, therefore, truly sustainable.