fields

alu

 sofa | chaise lounge convertible
An outdoor sofa converts to be a daybed or chaise lounge. Brilliant design. 100% aluminum, galvanized for outdoor use comes with great outdoor fabric upholstered cushions.
---
In Stock Frame Color Options: White
In Stock Cushions' Fabric Options: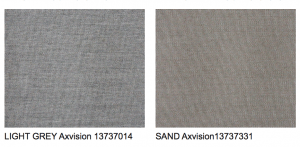 Aluminum Base Dimensions:
78.3" W | 29"D | 10.5H | 16H with the seat cushion
Base color options: White powder-coated.
FRAME
Material: aluminum tubes, alu plate
(wall thickness 1,5 to 3 mm / contract standard) Production: welding
Finishing: powder coated (Akzo Nobel)
Special performances:
- Recyclable
- Strong and durable
- Resistant to chlorine and salt water.
Cushions: with Axvision fabric, PU foam or all-weather foam
CAPS
Material: PP (polypropylene), injection molded
This model has plastic caps with rubber to avoid gliding
PACKAGING
These items are carefully wrapped in bubble foam before they are wrapped in a double layer carton box.
QUALITY
During the production process this piece of furniture is subject to the following quality inspections:
- Inspection of frame welding
- Inspection of a powder-coated frame - Inspection of weaving + finishing
- Inspection of packaging
---
OUTDOOR FABRIC
This acrylic fabric is created through a unique process that adds colored pigments during fiber production. The color is locked into the fabric and lasts as long as the fabric does even with lengthy outdoor exposure. Consequently, the colors will resist fading from UV rays, chlorine, salt water and washing. AXVISION is resistant to water, moisture as well as all kinds of stains. All that is required is regular brushing and rinsing in clean water. The fabric can also be machine washed at 30°C and diluted bleach can also be used on stubborn stains at no risk to colors.
The fabric's water resistant features do not stop air from filtering through the fabric, and so prevents heat and water condensation from forming inside cushions or under parasols.
UNBEATABLE RESISTANCE
Resistance to mildew, oblivious to salty and chlorinated water. Maximum protection against stains, fluorocarbon-treated to prevent the absorption of liquids.
ULTRA-DURABLE COLOURS
Unique dyeing process, impregnated to the very heart of the fiber, from the first stage of manufacturing.
EASY CARE AND MAINTENANCE
Specially treated fabric to avoid any build-up of stains or greasy substances.
Machine-washable fabrics
SPECIAL PERFORMANCES
- UV and weather resistance
- Water (salt and chlorine) and moister resistance
- Non-toxic and environmental friendly
- Strong and durable
- Recyclable
- Washable (30°C)
- Maintenance free